Mental Health and Emotional Wellbeing at Egglescliffe CE Primary School
Our Mission Statement:
Egglescliffe CE Primary enables everyone to be:
Successful learners, who enjoy learning, make excellent progress and achieve to the best of their ability.
Confident individuals who feel safe, are happy, healthy, enjoy a challenge and are resilient when facing difficulty.
Responsible citizens who care for one another and their environment and make positive contributions to the community and the wider world.
To be the change you want to see.
Aim:
Each child is recognised as a unique individual who is inspired to grow as a responsible citizen and realise their potential within an enriched Christian family underpinned by our core beliefs of:
Love, Trust, Hope and Friendship
We believe for our children to accomplish this, positive mental health and wellbeing is paramount to what we do.
Our children are navigating a variety of pressures which according to research is why 50% of mental health issues are established by the age of 14 (MHFA, 2023). To help to alleviate these pressures, we have focussed on creating a positive, mentally healthy environment for all children. Collaboration is key. To create a supportive community where everyone can flourish requires a holistic approach.
Mental Health and Emotional Wellbeing Lead
Our Mental Health and Emotional Wellbeing Lead, Mrs Holgate, is available to start a conversation and provide time for reflection. If further support is required, with collaboration from home and school, we can develop a bespoke programme of support for your child with Mrs Holgate or signpost provision from outside agencies. Identifying any issues or changes in behaviour as early as possible can reduce any impact on our children's social, emotional and academic growth. Together, we can encourage children to talk about their feelings while developing and maintaining a positive mental wellbeing.
Below is a snapshot of ways we promote positive mental health and wellbeing at our school.
Our Sensory Area
Sometimes we need a place to reflect and reset. Our new sensory area provides that space. With an enchanting mural, comfort toys, communication resources including a plethora of stories and soft furnishings, the space provides an area of escapism.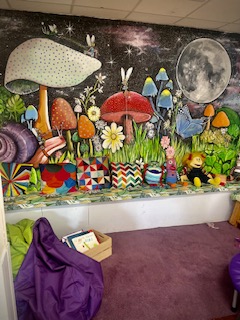 Calming Zones
To provide a moment of calm and an area of comfort, our classrooms feature calming tents. Within the tents are fidget toys to provide a pleasant but purposeless activity. Some users believe these toys help them regulate any possible anxiety, frustration, agitation, and excitement.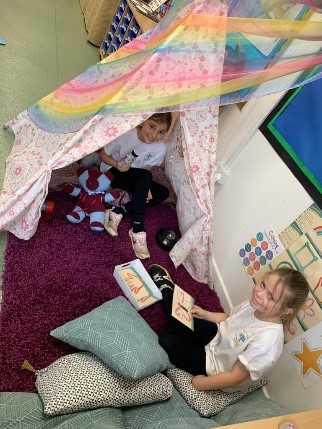 Reflection Areas
Within our classrooms, we have designated reflection areas to make prayers, share thoughts and reflections and read inspiring stories.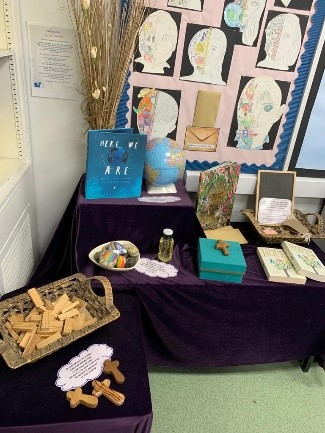 Our Nature Garden
Hidden away to provide a garden comprised of natural elements of rock, gravel, sand and wood provides a safe space for our children to explore the outdoors. The garden has been designed to provide an area to observe, explore and reflect. We also welcome the sharing of stories to inspire us.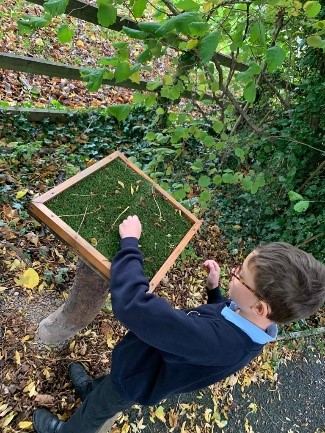 Yellow Post Boxes
Around school, we have yellow post boxes for all children to access to share their thoughts and emotions. Celebrating a moment of happiness, post it into the box to share with our Mental Health and Emotional Wellbeing Lead. Feeling a little bit overwhelmed, complete the form and pop it in the box and our Mental Health and Emotional Wellbeing Lead will come along for a chat.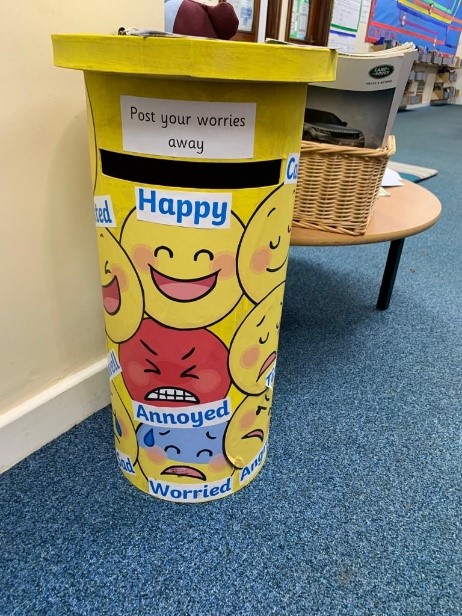 Theme Days
Annually, we highlight talking about emotions and sharing our feelings by celebrating Hello Yellow Day. During this day, we have a plethora of events to positive mental health and wellbeing from making calming jars to scented playdough. One of our favourites is 'The Big Breakfast'. Our children and their families were welcomed into school to enjoy a breakfast together. It was an amazing way to start our day together!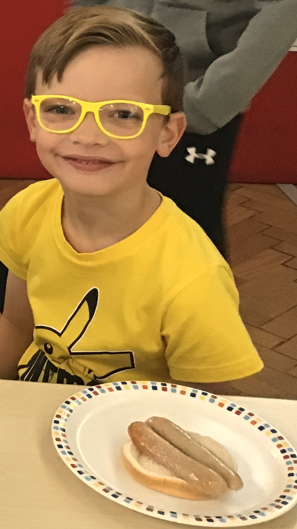 For further information and support regarding mental health, please see our policy below.
Useful Websites
Mind – To provide advice and support to empower anyone experiencing a mental health problem. We campaign to improve services, raise awareness and promote understanding.
Bullying – Advice and support for children and young people experiencing bullying
CAHMS Resources – Resources to support mental health and wellbeing.
Childline – A counselling service for children and young people.
BBC Bitesize – PSHE and citizenship videos to help children's understanding.
NCPCC's Pantosaurus – A video to help children stay safe and keeping their private parts private.
NSPCC – Information and support for child abuse
Mind – Mental Wellbeing resources for young people.